I am having a hard time Googling transparent oil painting as a method. The searches come up with putting a transparent oil paint glazing over your finished opaque painting, like the old masters, but I am talking about painting with transparent oil paint as if you would use transparent watercolor. I am sure I am not inventing this technique, but I am having a hard time finding fellow oil painters that build a painting in transparent glazes.
Let me explain myself. I often build layers of an individual color, like blue, yellow, or red, with drying time between, to create the colors and values that I seek. I then add opaque paint to lighten areas that need blending or neutralizing. Sometimes the layers of transparent paint become too busy and I need a flat layer of opaque paint to calm things down. Using transparent white can create a ghostly affect. Building these transparent layers adds depth and interest to a painting. Yes, this technique is time consuming. I add 30 to 60 layers on each painting, no matter its size, and there must be drying time between each layer. It does take several months to complete a painting, so I have many paintings going at a time.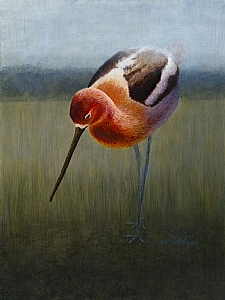 In my painting Avocet, I use opaque white (titanium white) in the upper background to push the painting back and to rest the eye on a neutral sky. I also use transparent white (zinc white) to create the ghostly light effect on the mid-level grass and the sandpiper's legs, neck, and purple flanks. The zinc white creates a luminosity that the titanium white cannot. Sometimes, diluting titanium white will achieve a ghostly effect, but it does not dry transparently like zinc white. Comparing the opaque white on the upper back of the Avocet and the transparent white on the flanks and neck, the colors show truer through the zinc than the titanium white.
How are other artist's using these transparent paints in their works? I am intrigued by these pigments and want to learn as much I as can. Please comment and give me feedback.